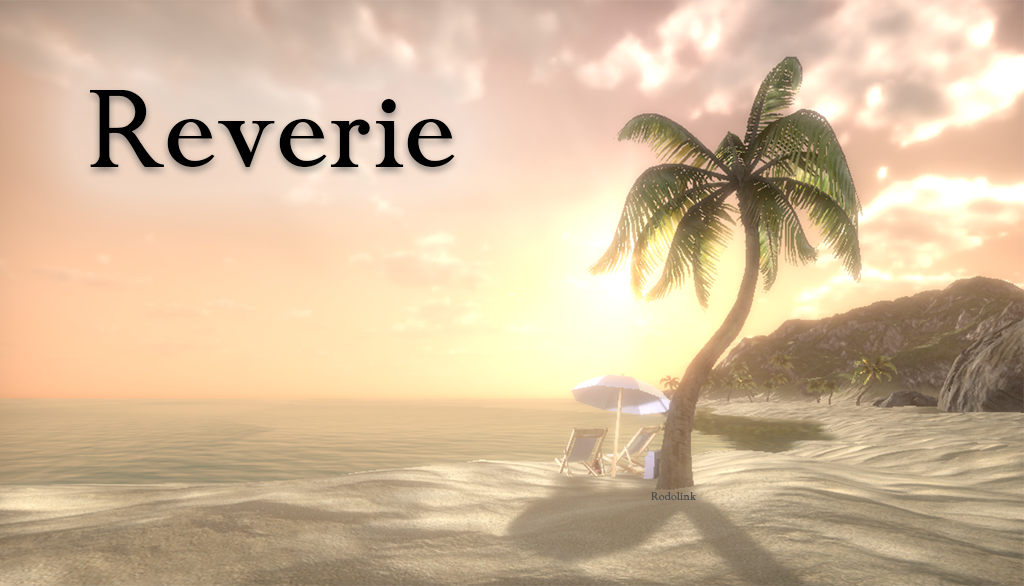 Reverie
Premise
The final project for my Master thesis in the Cologne Game Lab an institute from the THKöln.
More than a game is an immersive digital experience which works as a metaphorical representation of the inner workings of the concept of nostalgia in our minds.
The game views the emotional relationship between the player and the environment, trying to elicit nostalgia through a socio-psychological and neuro-scientifical standpoint.
For more information please don't be afraid to contact me.
The "game"
A first-person perspective experience where you explore a land that works as a metaphor for the emotional state of the mind during a nostalgic reverie. The land is in turmoil until you find "temples of time" that can be activated using personal memories, thus turning the environment into a calm pleasant one no longer in turmoil.
Explore the land and try to find the temples, inside you will find various elements that might trigger your imagination and memories.

Also in the end you might be able to find some extra secrets ;)

Disclaimer: It is important in order to enjoy the experience the best way that when you are prompted to write a "nostalgic memory", to bring this nostalgic events to mind, and immerse yourself trying to think for a couple of minutes on how it makes you feel.
Controls
w,a,s,d - movement.
mouse - camera look.
shift - move faster.
c - crouch.
mouse click - interact with certain objects.
keyboard - you will be prompted to write somewhere using your real keyboard, to finish texting, press the enter key.

Esc - Will open the controls window in-game.
EXTRA: not recommended the first play-through but you can activate a "debug-mode" when pressing the F12 key.
If you try it and enjoy it, I thank you in advance.

All external assets rights are documented in the readme file.

Download
Click download now to get access to the following files:
Comments
Log in with itch.io to leave a comment.
Hey Guys,
You didn't pack the data files with the exe :(
Regards

wobblyfootgamer
Oh no! I confused the setup.exe with the Unity generated one, thank you for noticing, I'll update it ASAP
reuploaded, it should be fine now